Science and technology are changing the world so fast. Since the first man landed on the moon 50 years ago this summer, there have been many more giant leaps in so many fields — from robotic body parts and cancer genome sequencing, to Higgs boson, and gravitational waves.
If you think how far mankind has come in the last 50 years, just think of how much more can be accomplished in another 50. But to carry on in this light, a whole new generation of scientists and engineers needs to come forward.
So how can this generation of children be inspired? How can parents encourage their own children to get involved in science and technology now so that their kids can be a part of this exciting future?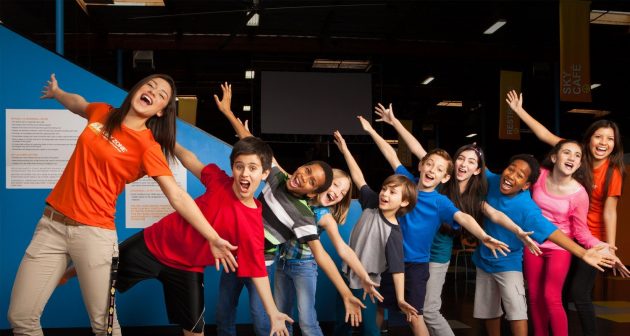 Inspire a Love of STEM at Summer Camp
While science, technology, engineering and math (STEM) are always part of the school curriculum, extracurricular studies in these areas can give children access to many exciting hands-on opportunities.  
STEM summer camps are the perfect chance to get your children involved in some super-fun STEM activities and inspire a lifelong love of these subjects.
A good camp will design activities with maximum fun and excitement in mind and will aim to give children a summer holiday to remember. But they'll also be mindful that children are learning through games and activities at all times.
Because children are away from the pressures of their normal school environment, summer camp can be a fresh opportunity for your child to engage with a STEM subject that they may not have particularly enjoyed or found difficult.
Alternatively, a STEM summer camp can be a chance for a child to extend an interest or further develop an aptitude they've already begun to foster.
Recommended STEM Summer Camp Activities for Kids
Many STEM summer camps give children access to inspirational high-tech equipment that they may not have had a chance to use at school. And in a good summer camp, teachers will also possess a high degree of specialism and many years of experience, putting them in the perfect position to inspire your kids. This way, children leave camp with a deeper knowledge and understanding of how machines and technology work.
In a summer camp environment, the emphasis is on practical activities. STEM camp is the perfect setting if your child loves to experiment, tinker with things, build, design, and engineer (or if you would like them to do more of these activities).
Here are three particularly exciting summer camp activities to look out for as these will almost definitely inspire a lifelong love of STEM subjects:
1. Robotics
The chance to study robotics is guaranteed to amaze your child.
In robotics sessions, kids will have the chance to design, build, and program their own robot. This is usually a group project so your child's social skills will also get a boost.
While robotics is fascinating in its own right, it is also closely linked with other STEM subjects so they'll be gaining a broad range of skills. A robotics camp will cover mechanical engineering, electronics, software programming, and others.
2. Coding
Advanced coding skills are definitely going to be in demand in the future, so giving your kids the opportunity to start coding this summer could be setting them up for an incredibly rewarding future career.
Coding at summer camp involves app building and compiling instructions for computers to perform exciting functions. There's always lots of emphasis on fun and games.
After the summer, you'll see the benefits of coding activities for your child across all their subject areas. Coding is a brilliant exercise for working on problem-solving skills. To successfully code, kids will learn to troubleshoot and use trial and error to 'debug' their apps.
3. 3D Printing
The uses of 3D printing technology have rapidly increased across a wide range of industries. It is expected that 3D printing will transform manufacturing and will have a huge impact elsewhere, including in pharmaceuticals and consumer electronics, amongst others. Skills in this area are certain to be needed in many future careers.
At summer camp, kids will create models using specially-designed 3D printing software. They will produce prototypes, evaluate and troubleshoot problems before printing their final piece. This process means that plenty of transferable skills are learned, including art and engineering.
Kids can really use their imagination while 3D printing at camp. And it's a great chance for kids to create something to take home and be really proud of.
Something for everyone
The above is just a selection of activities that STEM summer camps can offer. Some camps may be highly specialized; others more general.
However, there is certain to be something for everyone at a STEM summer camp, no matter what your child's age, ability and interests are. It'll give them an incredible summer of fun and learning, and open some exciting doors to their future.
Author Bio: Maloy Burman is the Chief Executive Officer and Managing Director of Premier Genie FZ LLC. He is responsible for driving Premier Genie into a leadership position in STEM (Science, Technology, Engineering, and Mathematics) Education space in Asia, Middle East and Africa and building solid brand value. Premier Genie is currently running 5 centers in Dubai and 5 centers in India with a goal to multiply that over the next 5 years.