Earlier premium series of Samsung smartphones was dubbed as the Samsung Galaxy S and Galaxy Note and now by adding two new series Samsung is ready for the new sales and profit records. Here two new series of Samsung is referring to the Samsung Galaxy Note Edge and Samsung Galaxy Alpha. Both are unique as per the earlier perspective of Samsung. Note Edge features the special display and Galaxy Alpha features the special design as of the iPhone.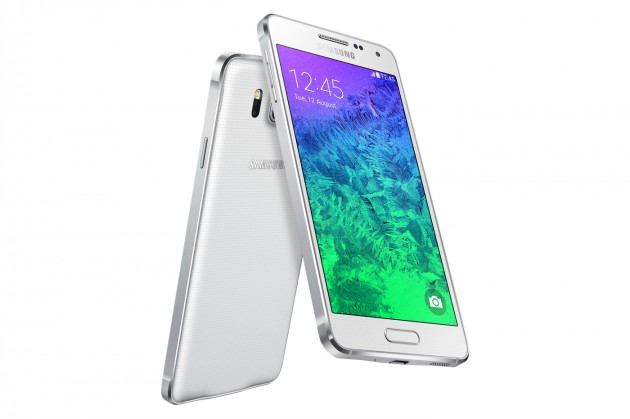 The Galaxy Alpha brings a processor Exynos Octa Core, which combines a Quad Core 1.8 GHz and Quad Core with 1.3 GHz. All this coupled with 2GB of RAM. It is incredibly fast and both sail and open apps are made ??to a brutal speed. The Benchmark Antutu in this smartphone offers one of the highest scores of Android, and its gaming performance is very high.
A serious flaw of this phone is that a gap for memory expansion missing, since it is not possible to put a microSD anywhere. With 32GB of internal memory, which is actually rather better, include an SD card would be highly recommended. But don't worry Samsung wouldn't repeat this in the next Alpha smartphone.
In terms of multimedia performance, unfortunately your speakers do not have all the quality you should, because its power is rather low, apart from lack of overall quality something is better. The 12 MP Camera in the Samsung Galaxy Apha has the same software as the Samsung Galaxy S5. Thus, when you open the camera application we find some shooting modes, plus if we have to download, HDR in real time and a lot of configuration options are present. This is a very positive point for lovers of photography, like us, who want to have more control over your photos. The photographs are made in the form 16: 9, and the sensor is ISOCELL, which means that the quality of the photos is almost identical to the S5, although with somewhat less definition, but minimal. The camera features the same classic shooting modes and real-time HDR works perfectly, but the shot takes slightly longer to become fast compared to Galaxy S5. And in the upcoming Galaxy S7 we can expect it to work faster. In low light the terminal offered something less quality, and focused worse. It's always slow in general, but at night the results are not nice.
Samsung Galaxy Alpha has a capacity of 1,860 mAh, lower even than the Galaxy S3. This is where we see the little brightness helps to have more battery life. Also being HD quality, is spending is better than your competition with Full HD. If you are regular user, you only need to charge your phone at night, but if you already use the smartphone all the time and more intense, better bring your charger, or another battery. Let's Samsung would not disappoint with these small flaws in the Samsung Galaxy S6 and Samsung Galaxy S7 the verdicts of the Galaxy S series.