You want to earn more? The obvious answer is Yes, who does want to earn. So, you want to understand what are the highest paying careers available now-a-days? It is never too late to change your career goal. Whether you are trapped in dead-end job or fresh in market or have few years of experience it is never too late or too early to choose high paying careers. Highly paid careers are very demanding and challenging. You need to meet up the expectations to enjoy the money. To qualify for these high paying jobs may take years, only you can decide whether the hard work and investment worth the return which you will be getting after years.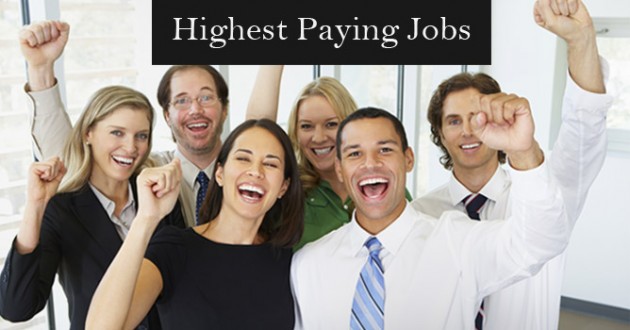 Even if the country economy is good it is always difficult to find a high paying job. It is not an easy task. If you find one, then performing that job is a challenge. High paying jobs wants you to be more responsible and accountable for the things going on in the company. You need to be answerable for all the bad decisions taken. You are expected to have extra qualities which make you different from other employees. For example, if you are CEO of the company you are expected to know all the things going around the world.
Top highly paid careers present, in decreasing order of average salary are:
Anesthesiologists- An Anesthesiologist is a doctor who ensure the safety of patients by giving them anesthesia during surgery. This remove the pain and distress the patient would have otherwise experienced. This job pays the highest salary.
Gynecologists- These are doctors who are specialized to treat female patients during pregnancy, other reproductive diseases. Hence, they are paid for carrying out this critical task.
Surgeons-They are among the most highly educated professionals who have advanced training in carrying out operations to treat illness. They can be either general surgeon or specialized surgeons. Salary of specialized surgeons is more than physical surgeons. Specialized surgeons are, Orthopaedic Surgeons, Neurological surgeons and Cosmetic Surgeons.
Job of Airline Pilots, Co-pilots and flight engineers also pays attractive salary. Job is exciting and challenging, you will have to fly passengers round the world. The job involves lot of responsibility and you will be paid for this responsibility.
Are you a satisfied earner in one of these highest paying careers? Or you dream to become? From all these options you can choose the one that excites you and work hard to achieve one of the positions.
Which is the highest paying career? Stereotype thinking suggests Doctors are the one who earn a lot money. This stereotype thinking fortunately holds to be true. As you can see the above highest paying career list contains maximum number of career related to medical field, all are different types of doctor. The medical field has always and will always provide stable and high paying employment to professionals who are dedicated towards their work and patients.
Many young professionals are engineers. Many of the highest paid professional are engineers. Engineering jobs are not tempting but are also always in demand. Experienced engineers can easily earn $100,000 annually. After having an engineering degree, you can find job in petroleum, computer, aerospace, electrical and chemical. You need to have bachelor's degree for lower level positions and master's degree for upper-level positions.
Learn about highly paid careers, chose one which grab your attention and get training to get one such position. Do the job you love. You will enjoy high payment only if you are satisfied with the job. Have a dream that does not let you sleep. Find a high paying job you cannot wait to get out of bed for!